Creations In Recycled Wool
Rugs, footstools, seat covers, and more
My creations have two main consistencies: what I make must be useful by being visible and experienced in every day settings, and I always use second hand wool. I find designs for rugs in nature, the imagination, friends and family, and people who want to commission a piece for a particular area of their home or a special someone close to them.
The first time I really became aware of hooked rugs was playing on a rug my grandmother made for her dining room. Even as a little girl, I was impressed by intricacy and the beauty of the rug. It was lovely! It wasn't until fifteen years ago that I purchased a kit to make a hooked rug, much less that it would turn into a passion in years to come.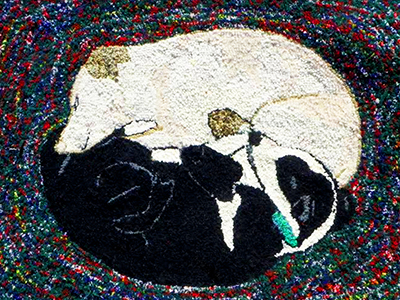 Making a rug or wool creation occurs between two stories: how the piece came to be and where its going. These are the stories of the people who live with my creations and those who inspired them.
Hand-hooked rugs hang on the walls of art galleries, museums, office buildings, libraries, and cultural centers. In the past 15 years, the art of hooking has grown in popularity once again.
Rugs, footstools, seat covers, Floor Doors, and more creations made from hooked recycled wool
noun
a rug made by drawing loops of yarn or cloth through a foundation of burlap or the like, to form a pattern.
Art In Rugs
by Cynthia Chesna